Background
Monroe Monitor is a weekly publication done by the Pacific Publishing company for the Monroe, WA area.
Contributions
At Pacific Publishing Company there are different groups who collaborate together, sales representatives, art department and the editorial department. I am part of the art department at Pacific Publishing company alongside the Art Director Mark Falconer.
Sales representatives are in charge of getting customers to want advertisement ads in the publication. When clients want their advertisement in the publications the sales representatives book the ads which end up as a runsheet. I use the runsheet as a guide for the sizes of each ad.In the runsheet, I also get to see if each ad is either going to be black and white or in color. From there I go on to put placeholder boxes with the correct sizes and lay them throughout the publication.
The editorial staff is in charge of putting the stories and images around the previously laid out publication. After editorial is done I place the actual ads and remove placeholders.
Final edits are made: I use Photoshop to make the images CMYK or Greyscale and proper resolution for newspaper printing. Refinement is made throughout the publication and exported to print then sent to the Printing Press Staff.
Monroe Monitor is a weekly publication done by Pacific Publishing Company.
Art Department
Art Director - Mark Falconer
Production Designers - Emigdia Castro
Nick Brosas
Contents copyright ©2017, Pacific Publishing Co. The Monroe Monitor & Valley news is published every Tuesday and entered as Second Class Matter at the Post Office, Monroe, WA 98272 under Act of Congress of March 3, 1879 (USPS 359-580). Subscriptions are non-refundable.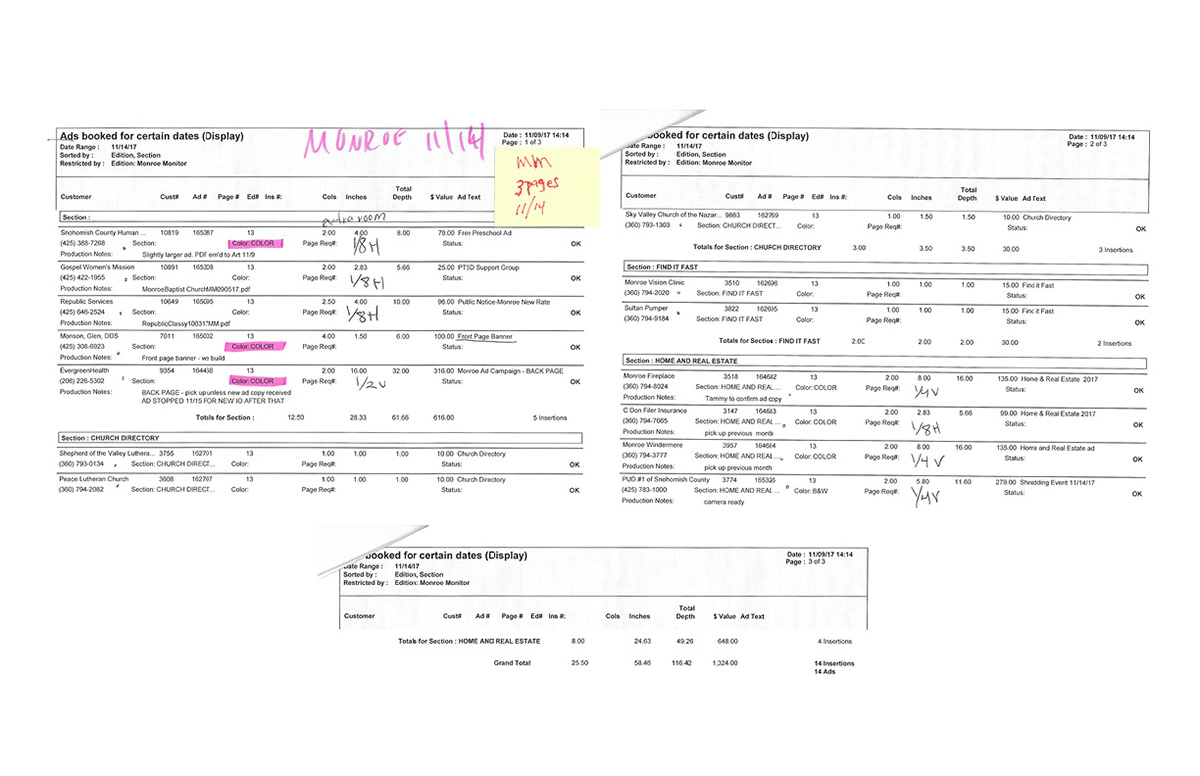 Proof 1 for 12 and 16 Pages